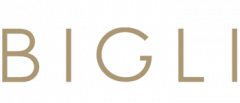 To create the purest form of beauty, the beauty of simplicity, that is what BIGLI wants to achieve. To combine soft and simple forms into something valuable, to a beauty that is truly meaningful.

You can discover this beauty in our store in ISCHGL.
BIGLI was founded over 20 years ago and Thierry & Laurence have captured every wonderful moment of their lives in a jewel. Graduation parties, engagements, weddings, the birth of grandchildren: they were all connected to a new BIGLI piece. These were moments of intense emotions, of love, joy, fulfillment and harmony. Full of the best that life can offer. Jewelry means much more to them than the mere search for refinement or beauty without a soul.
Discover the variety of BIGLI jewelery, combine it, let your imagination run free.