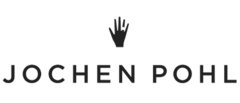 Jochen Pohl has been setting new standards time and again since 1996 with his jewellery, which focuses on exceptional gemstones. Colored gemstones and diamonds are combined in the field of tension of virtuosic compositions of shape, color and material in platinum and gold to create unique pieces of jewellery. They impress with the harmony between sensuality and perfection. Jochen Pohl avoids superficial zeitgeist and thus achieves both a current and lasting validity of his creations.

In our ZEGG Watches & Jewelery you can discover the selected pieces of jewelry by Jochen Pohl.
Each piece of jewelery in his collection is created by a team of specialized goldsmiths and gem setters in their own workshop in the traditional gemstone center Idar-Oberstein. The very special feel, the balanced proportions and the combination of the materials used are unmistakable and incomparable. The jewelry brand JOCHEN POHL is something for connoisseurs and connoisseurs.
Collection
Afraid of the myth of infinity. Precise. Relaxed. carefree. These are Jochen Pohl's rings.
Go to collection
Jochen Pohl stands for uniqueness with her individual jewelery lines. Recognizable by the clear line with unique colored stones in the center, each piece of jewelery conveys luxurious exclusivity. The high-quality materials combine quality with a strong sense of aesthetics.
Go to collection
You can immediately recognize JOCHEN POHL jewelery by its clear, pure line. His work always focuses on outstanding, natural gemstones in extraordinary colors and exquisite quality - worked exclusively in 18-carat rose gold, white gold or platinum.
Go to collection